atlantic city?

yeah... why not? being a west coast girl i grew up with talk of reno and las vegas... but atlantic city? sounds like something out of a book or movie... so three of us headed out on saturday night and arrived in atlantic city around midnight... the hotels were much more expensive than the bargains you can get in vegas, but that was irrelevant since most everything was sold out anyway. we ate at a 24-hour chinese food restaurant, tried our hands at blackjack, roulette and the slots, then drove outside of town in search of a cheap motel around 5 am... in the morning we struggled through the buffet and then took a walk on the boardwalk before heading home... (i mean, back to nyc...) i enjoyed myself thoroughly...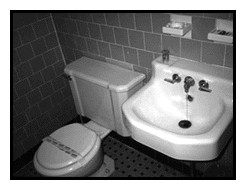 it's amazing how most motel bathrooms look the same...
this one was bright pink actually... i liked it...


| current snaps | past weeks | what? why? | feedback |

all images are copyright emilie wilson and
should not be reproduced
without permission.