coney island...

only a subway ride away (the last stop on the B, D, F, or Q) and well worth the trip. guide books say you should only go during the summer when the amusement park is in full swing, but i say any day is a good day to take the trip. definitely a different feel (almost like a ghost town on really cold, dank days) but i like that. i've only been twice: this visit for snaps and in february almost two years back when it was blanketed in snow and as beautiful as can be... i admit that i also look forward to next spring when i can enjoy the rides and the weather... coney island has a long and colorful history that's worth the read (some good photos too!)... the closest thing we have back in s.f. are the sutro baths and the musee mechanique, both reminders of playland at the beach...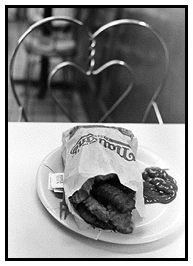 nathans... home to the annual hot dog eating contest...
for me: fries and beer...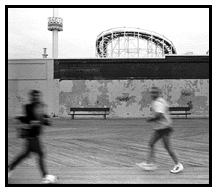 that's the cylcone in the background...
not a lot of activity during these cold months...



it's a pretty long subway ride and this guy had the right idea...
we weren't the only ones taking the subway out to coney island...


| current snaps | past weeks | what? why? | feedback |

all images are copyright emilie wilson and
should not be reproduced
without permission.