beauty in new york city...

o.k... last week i promised a little of the nyc nightlife so this week we visit an east village/gramercy park spot called the beauty bar. it's located in a renovated salon with tons of cool 50s and 60s beauty and grooming supplies, appliances and signs. very kitsch, and in san francisco i'm pretty sure i'd hate it after awhile cause it would either become so "hip" or would become mobbed by the marina crowd. the beauty bar has been around for about two years (i went there during my last visit to nyc) and i was wondering if i would hate it now too... but i didn't. maybe it's because there are so many bars in new york (or i'm just not as proprietary (yet) about my favorites), but the crowd seemed pretty mixed, everyone doing their own thing. anyway, for those of you who don't care about the politics of corner bars, on to the snaps... (and as always, let's not forget about san francisco...)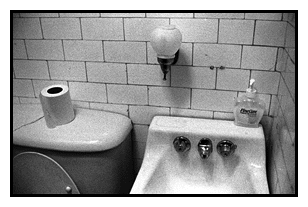 check out the cool wallpaper in the ladies room...
the boy's room has class too...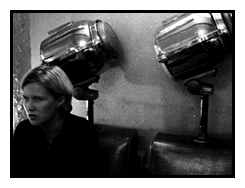 what do ya say? do ya think she doesn't like me?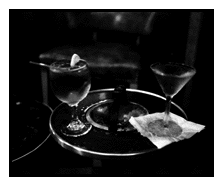 their matchbooks say "exquisite... but not expensive"
maybe it's just cause i'm an s.f. girl
but it seemed expensive to me!...
eddie says not for new york...

| current snaps | past weeks | what? why? | feedback |

all images are copyright emilie wilson and
should not be reproduced
without permission.