bars?
restaurants?
not this week...

this week you get a sample of home life, or at least a look at some san francisco style apartment buildings... not a lot of time, a gazillion options, so i chose a small neighborhood to cover on foot. the following images were all taken in the upper haight / cole valley district. a little history about the first building shown below, casa madrona (frederick st. near masonic): built in the 1920s it was run by MGM as a "getaway" for people visiting / working in the studios downtown... marilyn monroe stayed there... there was a big ballroom downstairs that is now someone's studio apartment (lucky)... and the big bird of paradise plant on the left is one of the oldest on the west coast... (a few tenants provided the historical tidbits...thanks...)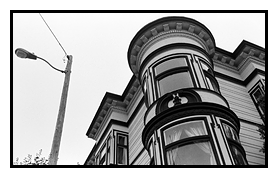 very typical looking apartment building...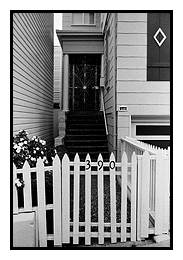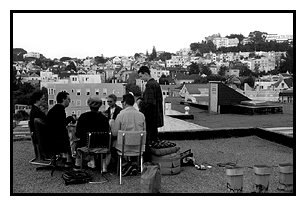 and of course, a poker game on the rooftop...

| current snaps | past weeks | what? why? | feedback |

all images are copyright emilie wilson and
should not be reproduced
without permission.